At Ingersoll Rand, we understand the needs of professionals and DIY enthusiasts alike. That's why we've designed our 3 HP and 5 HP single stage reciprocating air compressors to meet the demands of any user. Whether you're tackling a home renovation project or using it in a professional setting, our compressors are the perfect choice.
When it comes to performance, we believe that you deserve nothing but the best. Our compressors deliver maximum operating pressure, increased air flow, and extended duty cycles, making them the ideal choice for anyone who values efficiency and power. With Ingersoll Rand, you can be confident that you're getting a compressor that is built to last.
Our commitment to quality is evident in every aspect of our compressors. From the precision-engineered components to the durable design, we've thought of everything to ensure that you get the best possible experience. So why wait? Choose Ingersoll Rand for the ultimate in single stage reciprocating air compressors and experience the power, reliability, and performance that you deserve.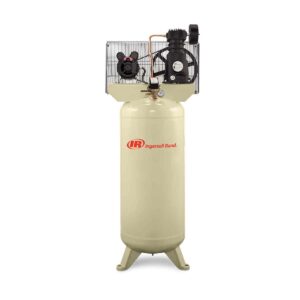 Key Features and Benefits

Download Product Information
Long-Life: Durable cast iron construction, long-lasting extended pump life designed for over 5,000 hours of trouble-free use
Maximum Power and Flexibility: 100% continuous duty, high pressure operation up to 135 psig and a 60 gallon vertical ASME receiver tank provide plenty of punch for the most demanding applications
Easy Operation: Automatic start/stop pressure switch control, fully assembled and pre-wired delivery, easy to change filter, oil site gauge and easy to fill oil port simplify operation and maintenance
Advanced Safety Features: Manual thermal overload protection of the motor and a totally enclosed belt guard provide constant protection
Reliable Operation: All Season Select synthetic lubricant increases efficiency; with 2,000 hours of service between changeouts, it performs four times longer than petroleum-based lubricants
Two-Year Warranty Available: Purchase an All-Season Select lubricant start-up kit, and receive all the parts you need for start-up and the first year of maintenance, along with an extended pump warranty