Ingersoll Rand's electric-driven duplex reciprocating air compressor is the perfect solution for larger capacity jobs. Featuring two individual compressor pumps and two motors mounted on a single tank, this compressor provides 100% built-in backup or additional air power as needed.
Designed for applications where available power does not allow for a single larger compressor, the latest generation of our duplex two-stage reciprocating air compressor features the legendary Type-30 pump with value-added features in a space-saving design that is perfect for tight spaces. Our duplex packages are available in both Value and Premium configurations, with factory-fitted options ready to use.
With a durable cast-iron design for heavy-duty applications, the duplex compressor is designed to handle even the toughest jobs. Our compressors automatically alternate or duplex depending on compressed air requirements, ensuring reliable performance when and where you need it. The individually cast cylinders, overhung crankshaft, and one-piece connecting road make maintenance and service a breeze.
With a maximum operating pressure of 175 psig, our duplex compressor is suitable for applications requiring high air capacity and pressure. Plus, when used with Ingersoll Rand All Season Select synthetic lubricant, our compressor comes with an extended 2-year warranty.
At Wiseworth Canada, we are proud to offer the latest technology and features in our duplex two-stage reciprocating air compressor. We believe that the durability, reliability, and performance of our compressors make them the perfect choice for any application that requires high-quality compressed air.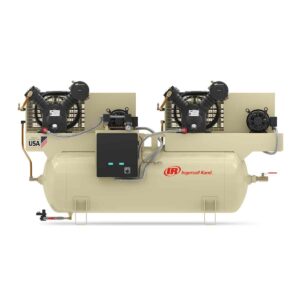 Key Features and Benefits

Download Product Information
Long-Life: Durable cast iron construction, long-lasting extended pump life designed for over 15,000 hours of trouble-free use

Maximum Power and Flexibility: 100% continuous duty, up to 5 hp two-stage air compressor, 175 psig maximum operating pressure and a 60 or 80 gallon ASME receiver tank provide plenty of punch for the most demanding applications

Easy to Service: Individually cast cylinders, overhung crankshaft and one piece connecting rod simplifies maintenance and service

Reliable Operation: All Season Select synthetic lubricant increases efficiency; with 2,000 hours of service between changeouts, it performs four times longer than petroleum-based lubricants

Two-Year Warranty Available: Purchase an All-Season Select lubricant start-up kit, and receive all the parts you need for start-up and the first year of maintenance, along with an extended pump warranty

Available Feature Package (5 hp): Value Feature Package includes 100% cast iron pump, ASME-coded receiver tank, ODP motor, automatic start/stop control with pressure switch and manual drain